How to Optimize Video Content for LinkedIn
In a social media world where food videos and baby pictures dominate Facebook and memes, and celebrity spats define Twitter, an effective social network for the serious business professional may seem impossible. Luckily, LinkedIn is built for business.
LinkedIn is one of those social networks where people either care about it and invest significantly in it, or they don't care about it at all. While some choose to brush it off, it is to their peril. As in the world of B2B marketing and business development, it is the place to be active. A network of professionals, many of whom are in your target market, is prime 
LinkedIn is a great place to build credibility within your industry and to help establish your professional brand. One way to do that is by posting high-quality video content natively to the site. In this blog post, we'll discuss some tips on how to optimize your native LinkedIn video content so it can achieve the best results possible.
*Please Note – we're going to assume that you've already recorded your video and you're just ready to share it with the world. Don't have a video topic? Not to worry, because we have a blog post to help you figure out what your video should be about.*

Initial Upload
Initially uploading your video to LinkedIn is super simple. Whether it's on your personal account or company page, there's only a couple of things to do.
If you're on the main feed, you can click the little camera icon to the right of "Share a post." Locate the file and click open. That's all there is to it.
Use an Attractive Thumbnail
Once you've uploaded the actual video file, you can preview your video before it posts. On the right-hand side of the video, you'll see what appears to be a small pen/pencil icon. If you click on that, you'll be given a few more options for customization.
Generally speaking, by default, LinkedIn will use the first frame of the video as the thumbnail image. Keep that in mind when you're making your content. For business pages, you can upload customized thumbnails by clicking on the pen/pencil icon.
Make sure the custom thumbnail you choose is the same size as your video file – generally 1920×1080 or 1280×720. You can use something like Photoshop or another photo editor to make things a little more interesting. Just don't create a false sense of expectations with your thumbnail (i.e., don't take the clickbait route).
Craft a Kick-Ass Title and Description
While you're under the video settings (pen icon), you can give your video a title. When viewed through the post feed, the title of the video will show up directly below the video. Feel free to flex your creative muscles here and make something that stands out from the noise.
Along with a title, you're going to want to write a compelling description. The description will not only help to hook people who are scrolling by, but it will give insight as to what your video is going to be about.
Within your description or post, encourage conversation with your network of lovely connections. Tag people within the video if they are featured or involved to help with boosting engagement. You can also research some hashtags on LinkedIn that work well within your industry. If you're posting about video marketing, you can try something like "#VideoMarketing #ContentMarketing #VideoProducton" or something to that effect. Just make sure they're appropriate and that you're not spamming folks.
Make Sure You Have Captions (and a Transcript)
Captions for your video are, like, super important. Why? Native video content on LinkedIn auto-plays as people scroll by. You have only moments to grab someone's attention. With captions, people can see what the spoken dialogue is about before hitting the play button.
Not only that but by having a transcript of what is said in the video, it can help you to craft a title and description like we talked about in the previous section. While you may have a script, a caption file is tied directly to the exact time in the video. That's how the captions show up at the right moment. A transcript is helpful if you decided to ad lib your script. It's just a full copy document with everything you said.
Not sure how to get captions and transcripts? There are a few excellent third-party sites that can do it for you and they don't cost all that much. The first is called "rev.com." With this site, you upload your video, select the types of files you'd like to receive and a person will transcript the video for you. That's it. It does take some time, so if you have a long video, it'll take longer to transcribe. Another option is "trint.com." Trint uses AI to figure out what is said. It works really fast and it's reasonably priced. The only downside is that because it's based on AI, it doesn't always get things right. You will have to double check the work.
Tell Your Friends
So once you've uploaded your video to LinkedIn, come up with an excellent (and appropriate) title and description, used a custom thumbnail and attached a caption file, now you need to share it.
If you posted a video to your company page, you could share that onto your personal LinkedIn account. This sharing helps gain traction, especially if not all of your connections follow your business account. The more traction a native video gets early on, the more critical that video appears to LinkedIn's algorithms. Algorithms are weird, and I'm reasonably certain no one ever fully understands them.

Conclusion
And there you have it. A simple guide to uploaded and optimizing native video content on LinkedIn. I hope you found this information helpful.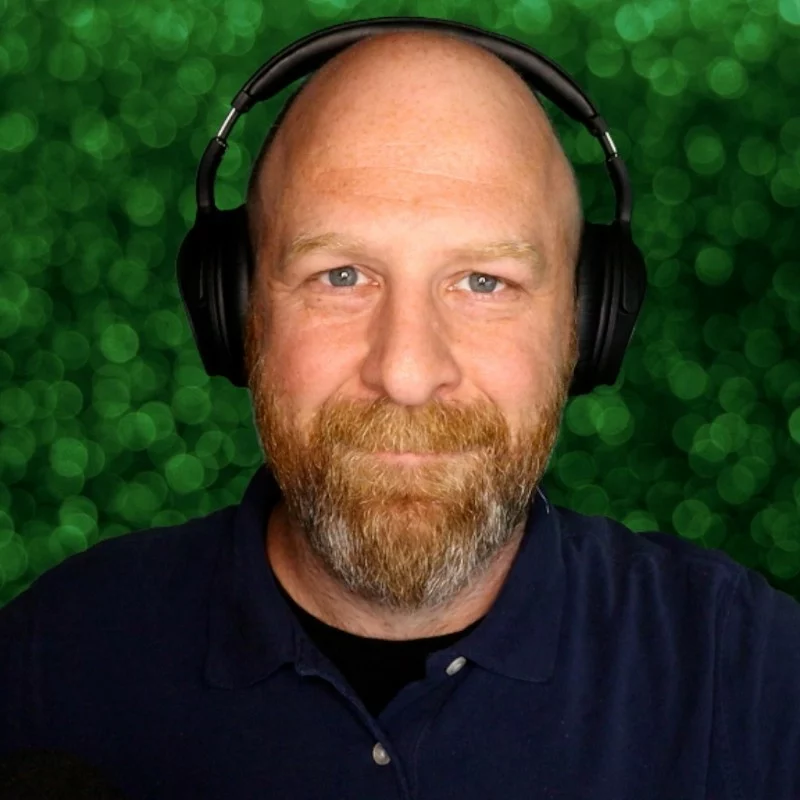 Neil K Carroll
Owner
I was your average small-town video guy, but when the pandemic hit, everything changed.
I ran a traditional video production agency with exclusively local clientele, a downtown studio, and a busy schedule. My days were long, travel frequent, and life as I knew it revolved around producing video content for my clients.
Then everything changed. Schools and daycares closed, my professional life was disrupted, and I found myself navigating a new path. It was one of uncertainty, with no end in sight and no destination obvious, but it demanded flexibility and resilience.
Unlocking Your Ability to Create Powerful, Professional Video Content
If you had to create an engaging, professional video for your business today, could you pull it off? If you're like many consultants and other business professionals, you'd probably feel completely overwhelmed. Even finding a starting point might seem impossible. And that's frustrating, because you know if you want to grow your business, video is an essential part of your marketing, sales, and communications strategies.
What you don't know, though, is how to easily create videos that:
❓ Strengthen your brand
❓ Establish your authority, and
❓ Make people want to do business with you.
That's the problem we help solve. We have created the vidwheel Creator Network,  a community where entrepreneurs and consultants representing all industries can come together to master the simple steps to stabilize and grow your business through video. From strategy to audio and lighting, staging, preparation, to feeling 100% natural in front of the camera, here's where you can learn it all. I created the vidwheel Creator Network as a supportive, energizing place to learn, share feedback, and grow alongside a community of professionals a lot like you!
Our affordable membership package even includes a done-for-you equipment kit. A video studio-in-a-box for your home or office. We've curated these kits for simplicity, versatility, and video creation power. No guesswork. No bins full of equipment you bought but didn't need.
It's the trifecta of video mastery:
✅ Right training
✅ Right equipment
✅ Right community
That's the kind of ease I wish I had when I started my own small business.
If this sounds like what you've been looking for, please take a moment to check out the vidwheel Creator Network.