Should You Work with a Traditional Video Production Company?
When you're looking to create video content for your business, we know it's challenging to find the right video production or video marketing company to work with. Do you need a full cast and crew of 30 people or will a small crew of 1 or 2 folks generate the best ROI?

This is part two in our blog post series on the three levels of video production capability. By this, we mean the type of video that can be produced, the production value that can be reached and what the process of video production looks like. Team size, skill set, and production timelines will also be considered.
Our first post was about Agile Video Production. Check back for the freelance video production profile. To start, we will profile agile video production.
In this blog post, we're going to discuss the various aspects of a traditional production house in detail. Is this going to be the best option for your business in terms of creating video content, or should you look elsewhere?
Traditional Video Production Explained
It's usually challenging for people to understand a particular industry if they aren't involved with it. And that makes total sense. One can assume that a person who works in the foodservice industry or healthcare administration isn't going to know the various aspect of video production and video marketing.
When we talk about a "traditional" production company, we're referring to the methods they use in order to create videos for their clients. This isn't a negative thing. In fact, traditional production companies do some amazing work. There is no question that they have the capabilities to create high-quality video spots for a large broadcast campaign or large online media buy. These folks have the highest production capability. In comparison to a freelancer or smaller video production company (that's not to say others are incapable of making high-quality videos too).
Production
When it comes to the actual production, traditional production companies tend to bring out the largest and fanciest cameras around and employ a small team to operate them. The production crew can be anywhere from 10 to over 30 people. While everyone plays a specialized role, it sometimes becomes a logistical nightmare managing all those people the day of production.
Post-Production
On the post-production side of things, these companies are able to produce any sort of edit you can image. That's because they have the necessary disciplines to create those videos. For instance, they may have someone on staff who serves as a "Colorist" and they only work on color correction and color grading. There could also be someone with the title of "3D Animator" and their main function is to use software like Cinema4D or Maya to create complex animation and graphics.
In summary, traditional production companies create amazing work. We aren't saying otherwise. What tends to make them "traditional" is the fact that they have so many cooks in the kitchen. So many moving pieces to complete a project. This comes at a price. For some businesses, this won't be an issue (if you're willing to pay the high prices). But for other companies, who need a high-quality video produced quickly and efficiently for their sales funnel(s), it may be another story.
So, What's the Downside?
All of the aspects mentioned above come at a cost. Those are both in terms of money spent and time spent. You'll be paying higher prices to produce these videos. Additionally, it takes a fair amount of time to create these. Also, the price you pay could vary from city to city. This would depend on the number of production companies in your town and the tools they use.
If you work for a larger organization where the budget set aside for video production doesn't matter. Working with a traditional production company might make sense for you. All of the time and people involved during pre-production, production, and post-production doesn't come cheap. If you choose to work with a traditional production company, they may work with a combination of full-time staff and freelancers, each of which who typically have varying rates. At the end of the day, that cost gets passed off to you (the client).
With a larger company structure and various moving parts, these traditional production companies tend to make production (and post-production) take longer. Whether it's scheduling a pre-production meeting or trying to schedule a shoot day, there tend to be a lot of cooks in the kitchen. Videos can take months to produce, and longer production schedules can add up quickly.
Where Should I Go From Here?
At the end of the day, the most important thing to consider is developing a partnership with a video production or video marketing company that wants to see your business achieve its goals. Bringing on a team of video professionals who don't care about the end results, in terms of the final product and your marketing strategy, may not be the best solution for you.
If your business is in need of a high end and polished video for a large broadcast campaign (or large online media buy), then going with a traditional production company may be the best solution for you. After all, John Hammond from Jurassic Park one said, "Spare no expense!". You'll get an amazing finished video from a traditional production company made with the best cameras and people around, but that will all be reflected on your invoice at the end.
We hope you found this information useful. There are a lot of different video companies your business can work with, so finding the pros and cons of each are crucial in you making an educated decision.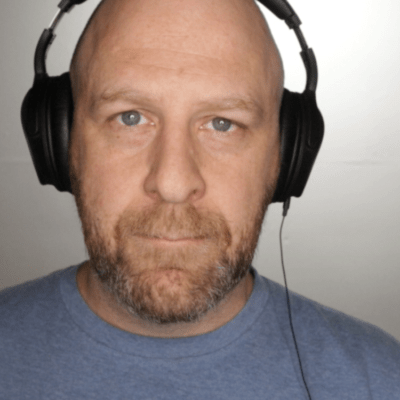 Neil K Carroll
Owner
Experienced creative professional with a love for breakfast sandwiches and a strong disdain for grinders.
Unlocking Your Ability to Create Powerful, Professional Video Content
If you had to create an engaging, professional video for your business today, could you pull it off? If you're like many consultants and other business professionals, you'd probably feel completely overwhelmed. Even finding a starting point might seem impossible. And that's frustrating, because you know if you want to grow your business, video is an essential part of your marketing, sales, and communications strategies.
What you don't know, though, is how to easily create videos that:
❓ Strengthen your brand
❓ Establish your authority, and
❓ Make people want to do business with you.
That's the problem we help solve. We have created the vidwheel Creator Network,  a community where entrepreneurs and consultants representing all industries can come together to master the simple steps to stabilize and grow your business through video. From strategy to audio and lighting, staging, preparation, to feeling 100% natural in front of the camera, here's where you can learn it all. I created the vidwheel Creator Network as a supportive, energizing place to learn, share feedback, and grow alongside a community of professionals a lot like you!
Our affordable membership package even includes a done-for-you equipment kit. A video studio-in-a-box for your home or office. We've curated these kits for simplicity, versatility, and video creation power. No guesswork. No bins full of equipment you bought but didn't need.
It's the trifecta of video mastery:
✅ Right training
✅ Right equipment
✅ Right community
That's the kind of ease I wish I had when I started my own small business.
If this sounds like what you've been looking for, please take a moment to check out the vidwheel Creator Network.